Gauge is of particular importance when it comes to KnitFit™ Custom Patterns because the accuracy of your gauge swatch measurement directly impacts the accuracy of the pattern instructions.
When the pattern gene­­­rator creates instructions, your gauge is a key factor in the equation; it affects actual stitch counts in your pattern instructions. This represents an exciting evolution in knitting—it's the first time that a knitter's actual gauge is being factored into the pattern instructions, and this means that you can knit with whatever yarn weight or gauge that suits you best rather than adjusting to match the designer's gauge. However with this innovation, the accuracy of the gauge swatch, or rather the accuracy of the measurement of your gauge swatch, is magnified.
In this guide we'll cover all the key factors in taking your gauge: the number of stitches in your swatch, your choice of yarn weight and needle size, washing and blocking of the swatch. As a pre-requisite to knitting the swatch may be yarn shopping, we'll also discuss the use of yarn estimation charts for figuring out how much yarn to buy for custom patterns. If you already have yarn for your garment in your possession, learning to use these charts can help when you need to verify that you have enough yarn for the style of garment you are creating.
Using Yarn Estimation Charts to Determine Yarn Quantity
If you are just beginning to choose a yarn or if you already have yarn and want to verify that you have enough, our Yarn Estimation Charts can help you find the answers you need. The charts allow you to look up estimated yarn quantities needed for basic garment types, based on the yarn weight used. You can look up sizes for garment types including long-sleeved, standard length pullovers, cardigans, and coats, short-sleeved tops, or sleeveless tops and view estimated yardage for the following yarn weight categories: Fingering/Sport/DK, Worsted, Worsted/Aran, Chunky, or Bulky/Super Bulky. The charts also give corresponding gauges and needle sizes for these projects. The charts are for estimation purposes only and it is recommended to purchase a little more yarn than is needed, particularly when it comes to custom sized patterns. The true yardage will ultimately be based on your exact body measurements, and the length you want the garment to be. More information on using these charts is spelled out on the page itself.
Selecting A Yarn Weight and Fiber Type for Your Custom Project
Another precursor to knitting the gauge swatch involves deciding the weight of yarn as well as the fiber type you would like to use. This is another customization option that the knitter gets to choose with KnitFit™ Custom Patterns. That's because the pattern generator uses your gauge, and basing the pattern off of your gauge means the yarn weight is already factored in. Now you can make the choice based on your own preferences. Some thoughts to consider in your decision:
Do you tend to run hot or cold?
In what season do you plan to wear the garment?
Will you be wearing it in a warmer or cooler climate?
Be sure to take a look at the custom pattern description to see if there is a recommended yarn weight. While the pattern generator can generate most patterns in most yarn weights, stay close to the recommended weight for best results.
Testing Needle Sizes in the Swatching Process
When you go to knit your gauge swatch, take a look at the recommended needle size for the yarn you have chosen. This information can often be found on the ball band of your yarn, but if not, you can take a look at the Yarn Estimation Charts to see common needle size-yarn weight correspondences. This will be a good place to start, but it's up to you to decide how you like the resulting fabric. If you want a denser fabric, go down a needle size and knit another swatch, if you want a looser, more drapey fabric, go up in needle size.
While considering your desired fabric, this is also a good time to think about how different fiber types work as fabrics. Many plant fibers such as linen or cotton can tend to stretch horizontally, while alpaca can be know to stretch vertically. For the most stable fabric, wool or a blend of fibers is a probably the most dependable option. Keep in mind too that fibers that don't stretch can be more difficult to knit tightly, which can also result in a looser fabric as you relax into your knitting.
Consider Gauge Instructions on the Yarn Label
While KnitFit™ allows you to determine your own gauge, it is also important to acknowledge that some knitters feel more comfortable starting with the yarn manufacturer's insights to guide them. Following the label and knitting to the gauge listed there will lead you to a nice fabric for the yarn you're using. Take a look at your yarn label to see if it includes gauge suggestions. This is not the last word, but given their experience with the product, it's a good starting point. If a yarn label reads "22 sts to 4in/10cm using a size US 6/4mm needle" you can bet that the resulting fabric will have a good hand–not too dense, not too loose. Just don't rely entirely on the label's gauge and needle combination, since if you can't knit consistently at that gauge, the resulting garment won't give you the fit that you planned for. The gauge information you enter into the pattern generator should be the gauge at which your swatch suggests you can consistently knit.
Swatch Size and Accuracy
When it comes to knitting your gauge swatch, we recommend casting on 40 stitches and knitting 40 rows in order to create a substantial swath of fabric for checking gauge. The pitfall of the common 20-stitch or 4"/10cm swatch is that they are knit with attention and care—meaning a completely different tension than a knitter is likely to have halfway through a garment project as they knit in front of the tv. A large swatch allows measurement of a more naturalistic tension—tension more like what will be used throughout the project. Additionally, the tension is changed by the proximity of the cast-on and bind-off rows to where the gauge is measured. These rows can be much tighter or much looser than the regular stitches, depending on the cast-on or bind-off technique used. The larger swatch allows you to measure in the middle, far from any differentiation in tension. While it might feel like a lot of knitting, this is going to help get you a garment that actually fits in the end, and that insurance is going to feel good as you knit the remainder of your garment.

Measuring Your Gauge from the Swatch
You're not trying to match any designer's gauge here, so as long as you like the fabric, you "got gauge!" So now you just need to measure it carefully in order to input your gauge in the pattern generator. Wash and block your swatch using the method you will use to wash and block your eventual garment. When dry, measure the innermost stitches:
If you're using inches, you will be measuring the number of stitches and rows per 1 square inch.
If using centimeters, measure the number of stitches per square 10cm.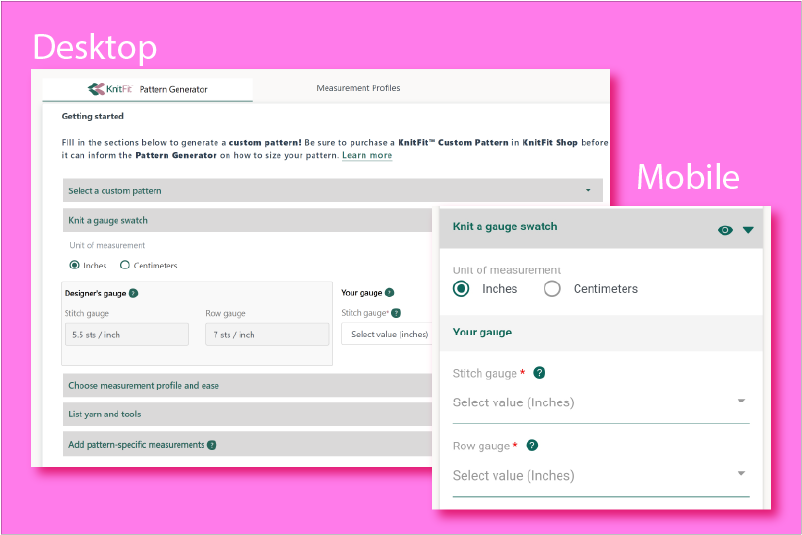 While there is a lot to consider in getting an accurate gauge, it means you can tailor so many aspects of the pattern: the sizing and shaping possibilities are endless, the yarn weight, the fiber type, the needle size, the fabric density. Spend a little extra time getting your gauge right and then enjoy knitting a project that fits all your most important preferences!
Go to custom pattern generation instructions
Read our article, 'How to Generate a Custom Pattern' to learn the steps to getting your own custom-sized pattern.